1470 ca, 17x24 cm,
999 copies



ISBN 978-88-86251-84-6
the most beautiful astrological book of the Italian Renaissance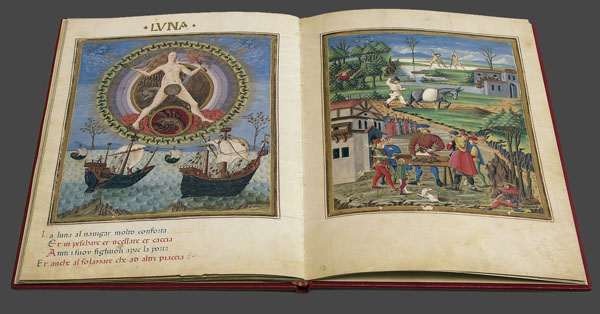 Illuminated manuscript on parchment (1470 c.), 17 × 24 cm, made up of 16 sheets forming a 32 page book. Of these, 7 are red ink framed blank pages, 15 fully illuminated, 9 with astronomical drawings and one with a table of climates. The text, in Italian, is in semi-Gothic copyist script in red, sepia and light blue ink.



The De Sphaera is unanimously regarded as the most beautiful astrological book of the Italian Renaissance. It was illuminated by a refined artist of the Lombard school (thought to be Cristoforo de Predis) for the Milan court and reached the Estense in Ferrara via the frequent artistic and cultural exchanges between them and the Sforza.

The codex sums up, with an unparalleled elegance, the astrological knowledge of its time and testifies the renewed authority, the reputation enjoyed by faith in the stars – a fashion and a culture at the same time – in the most powerful and refined courts. The De Sphaera adds its personal, superlative touch – with the splendour of its illuminated pages and the rhyming verses of its horoscopes – to a field, that of planet and zodiac iconography, which was already successful.

The facsimile edition of the codex is printed on a special paper that looks very similar to the original parchment; a gold embossed decoration is heat impressed. The kidskin binding is stamped with the Visconti-Sforza coat-of-arms. The 120 page commentary contains a study by Ernesto Milano and essays by Leandro Ventura and Giancarlo Malacarne. This is a world exclusive edition of 999 numbered and certified copies.